by Alpha Eta Nu Chapter
Southern Utah University, Cedar City, UT
2015 Sigma Tau Delta Project Grant Winner
The deadline for project grant applications has been extended to November 1, 2015.
Alpha Eta Nu, Southern Utah University's (SUU) chapter of Sigma Tau Delta, hosted a community reading event, "Books and Beyond" on January 30 and 31, 2015. The event was held at Cedar City Public Library. To fund this event, the chapter applied for a Sigma Tau Delta Project Grant.
In preparation, the officers created flyers to hand out to each of the public elementary schools located in Cedar City. They also put up posters around the community to promote the event. The event was well attended, with children ranging from 3 to 12 years of age.
"Books and Beyond" was designed to encourage elementary students to engage in reading through an interactive story time. Children brought their favorite books and shared with the other children; they also were provided with healthy snacks. The children were placed into small groups where they could read their stories. Chapter members were in charge of leading the different groups.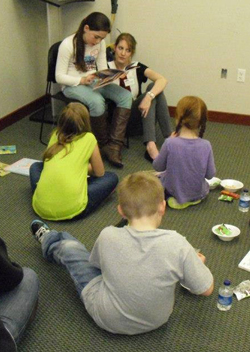 Treasurer Ken Ayers said, "I think that having an audience, instead of only being an audience, was a big difference for most kids – and one of the things that I liked most about our project. Kids weren't just listening to another story (though that certainly happened), but they could share their own story. Having a voice when you are young doesn't happen often. I think that it mattered to them."
PR/Historian Tristen Fagg said, "I think seeing how others enjoyed listening to their favorite stories benefited the kids. Understanding that the things you enjoy are enjoyed by others as well is a valuable validating experience."
When the chapter surveyed the children, one of the questions was, "What was your favorite part?" The resounding answer was when they read their book to the group. The survey also asked, "What would you want us to do differently?" One participant answered, "I would read the most!" This showed the enthusiasm she had for being able to share her books with other children.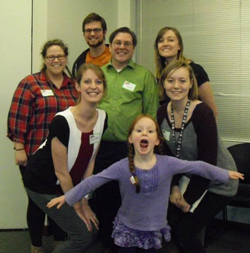 The officers also prepared gift bags for the children containing a notebook, pencil, and book of their choice. Books were available for all age levels.
Alpha Eta Nu hopes to make this an annual event, especially because chapter members, participants, and their parents showed interest. The Sigma Tau Delta Project Grant was essential to the event's success.
---
About Sigma Tau Delta Project Grants
Sigma Tau Delta's Project Grants are designed to encourage local chapters to be innovative in developing projects that further the goals of the Society. The Society will award a limited number of grants, for no more than $500 each, to support local chapter activities. Funds may be requested for separate projects or for parts of larger projects, and chapters should explore ways to use Project Grants in combination with funds secured from other sources. Funds may be requested for ongoing projects, but there is no guarantee that projects funded during one grant period will receive funding in future grant periods. Winning chapters may also receive up to $350 in travel assistance for sending at least one student representative to the annual convention to participate in a workshop and/or roundtable. Winning chapters are encouraged to share a chapter exhibit at the convention.
Applications must be complete and received by the extended deadline of November 1, 2015. No late submissions will be accepted. Award winners will be notified by November 15, with one-half of the awarded funds available immediately; the other half when a final project report is filed.
Project Grant Application Details and Application Instructions
---