National Poetry Month is right around the corner, but our current state of social distancing during the COVID-19 health pandemic doesn't mean your chapter has to abandon all plans for celebration. While reading Eastern Region Student Representative Alex McCarron's blog about her chapter's Annual Poetry Fest, consider how your chapter might implement some of her advice to host a virtual event to increase awareness and appreciation of poetry.
When it came time to choose topics for blog posts, my decision was easy—I chose chapter events so that I could write about the Shepherd University chapter of Sigma Tau Delta's annual poetry fest, which I have been participating in and assisting with for three years now! While researching for this post I actually discovered that one of our former Presidents, Brianna Maguire, had already written an excellent blog post detailing the 2018 Poetry Fest. As Brianna describes, the Poetry Fests are a time for chapter members, university students, and community members—anyone who wants to join is welcome—to gather together to recite and enjoy poetry. Rather than simply rehashing Brianna's post, I decided to focus more on what goes into organizing an event like this by interviewing Claudia McCarron, the former Vice President of our chapter (and, in the interest of transparency, my sister), and one of the key organizers of the 2019 Poetry Fest.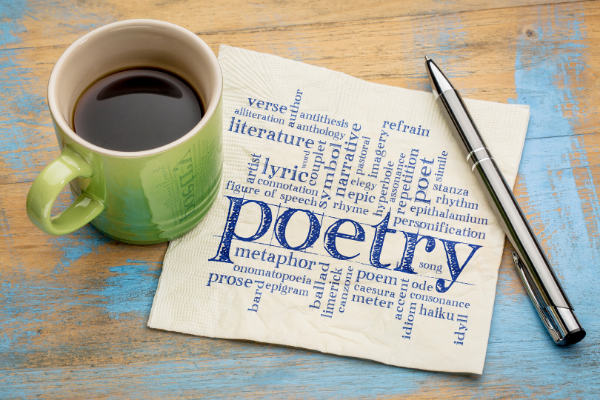 Of the goals for the event, Claudia says, "Our goal was threefold: We wanted to a) create an event for the performance and appreciation of poetry, b) draw attention to Sigma Tau Delta and the work it does with the local community, and c) draw high school students who might be interested in studying English at Shepherd." These goals align with the objectives of Sigma Tau Delta in several ways by promoting literacy and an appreciation for literature, promoting both our university and our Society in the local community, and hopefully getting potential future Shepherd students interested in Sigma Tau Delta. Of course, implementing these goals could be stressful: Claudia remembers "a series of small challenges" from recruiting volunteers and distributing flyers to reserving rooms. As with any event, there were hiccups along the way, and as one of the volunteers I had a front-row view of both the excitement and stress of planning the Fest.
Though these hiccups might have made organization a bit difficult at times (I especially remember the consideration that went into picking a date for the Fest; it was important that it not conflict with any other major events happening at Shepherd) they also made the process both challenging and fun. By the end, after all the stress and scrambling to get things done, we were still able to put together an event where poetry and the company of like-minded people were appreciated. Claudia notes that watching the event unfold and knowing it was organized to the best of our abilities was "validating." She says, "I really felt like we did the best job we could, and it was fun to relax a little and enjoy the event." As a member of Sigma Tau Delta and a volunteer organizer, I couldn't agree more: Planning and carrying out these kinds of events isn't always easy behind the scenes, but the sense of community and appreciation of literature gained from them is what Sigma Tau Delta is all about.
---
Alex McCarron
Student Representative, Eastern Region, 2019-2020
Alpha Gamma Kappa Chapter
Shepherd University, Shepherdstown, WV
---
Sigma Tau Delta
Sigma Tau Delta, International English Honor Society, was founded in 1924 at Dakota Wesleyan University. The Society strives to
Confer distinction for high achievement in English language and literature in undergraduate, graduate, and professional studies;
Provide, through its local chapters, cultural stimulation on college campuses and promote interest in literature and the English language in surrounding communities;
Foster all aspects of the discipline of English, including literature, language, and writing;
Promote exemplary character and good fellowship among its members;
Exhibit high standards of academic excellence; and
Serve society by fostering literacy.
With over 900 active chapters located in the United States and abroad, there are more than 1,000 Faculty Advisors, and approximately 9,000 members inducted annually.
Sigma Tau Delta also recognizes the accomplishments of professional writers who have contributed to the fields of language and literature.