The English classroom should be a welcoming place of acceptance and opportunity. The types of books available in a classroom library help set the tone of inclusivity and can help encourage reluctant readers by surrounding them with books on a regular basis. Through the incredible generosity of the Sigma Tau Delta Classroom Library Grant, I was able to expand my classroom library to include images of racial, cultural, linguistic, and sexual identities students have yet to encounter in our small Western Kansas town in order to build their empathy and understanding of lives different from their own.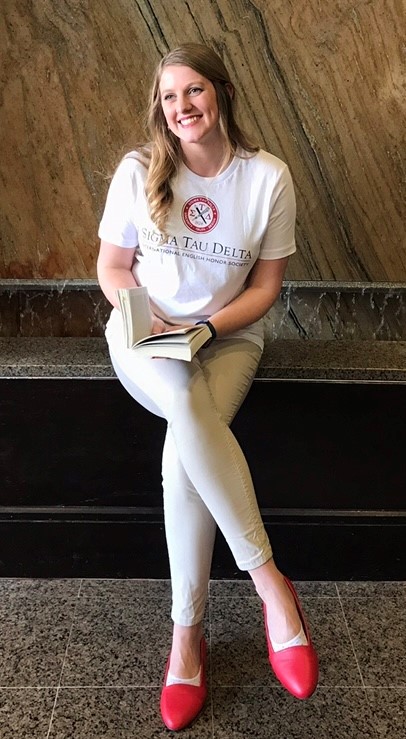 I added texts with topics and themes into my eighth-grade classroom that may be too mature for the sixth and seventh graders with whom we share a school library. The classroom library I inherited from the previous teacher is incredibly limited with only two small rows of books available for students to have access to in my classroom. These books are also limited to the standard classics often taught in classrooms across the country throughout the past. While I increased the classroom library by supplementing the shelves with books from my home library, this increase did not provide many books that meet the reading levels of my incoming students.
The process of selecting books to purchase was tedious, but well worth it. I selected books off the National Book Award Longlists from the past five years, Pulitzer Prize winners, most common banned books lists, and more. I sorted each book into categories to ensure a wide variety of identities for my students to experience. I believe the classroom library I now have will help students become more socially aware and empathetic members of society that exude sincerity and truth. Additionally, I feel that these texts are a gateway for reluctant and low-level readers into the world of books by including texts that address the world they are familiar with and characters they can relate to rather than the standard canonical texts taught in classrooms.
The day I revealed the new books to the students ended with books in students hands and waiting lists for multiple titles. Several students who were previously intimidated by long books left with copies of poetry collections and graphic novels. I hope this expansion will help improve comprehension skills which I will then transmit to the more challenging texts through connection making with an increase of vocabulary and use of context clues. More than anything, however, I hope to invite a love of reading into a space where students can encounter the magic of books. My students are grateful for the exciting new collection of books at their fingertips, and I am blessed to be a part of such a heartwarming organization. Thank you Sigma Tau Delta!
---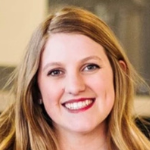 Tristan Wilson
Classroom Library Grant Recipient, 2021
Ruppenthal Middle School, USD 407
Russell, KS
---
Sigma Tau Delta Classroom Library Grants
Sigma Tau Delta's Classroom Library Grants are designed to enhance the Society's goals of
promoting interest in literature and language in the surrounding communities;
fostering all aspects of the discipline of English, including literature, language, and writing; and
serving society by fostering literacy.
The Classroom Library Grants are also intended to support our members who have entered the field of teaching and need material support to help achieve these goals through their work in the classroom by providing their students with a library in their own classrooms, especially where access to school or public libraries or to books in the home may be limited.
The Society will award up to five grants of $400 each per cycle to help members of Sigma Tau Delta who have been teaching in a Middle School or High School classroom for five years or fewer. That is, applicants may or may not be recent college graduates; the Classroom Library Grant is intended to help new Middle School and High School teachers, whether in their first years out of college or in the first years of a second career, to build a classroom library for their students.
Criteria For Selection
In choosing recipients, the Classroom Library Grant Committee will consider the following criteria:
lack of economic and geographic access to books at your school, or another demonstrated need;
the explanation of how the classroom library envisioned will support your goals in alignment with the Society's goals; and
supervisory endorsement of your classroom library project.
Please note that this grant is now only available to middle school and high school educators.
Deadline and Dates
Applications will be accepted through Monday, August 8, 2022, 11:59 p.m. Central Standard Time (CDT).
Past Classroom Library Grant Recipients
"I Finished a Book!": A Classroom Library's Impact
The Unofficial Guide to Getting the Best Books for your Classroom
Creating Lifelong Readers with a Classroom Library Grant
The Contemporary American Dream: The Impact of a Classroom Library Grant
Building My Classroom Library: A Bright Spot in a Tough Year
Special Books for Special Students
New Books, New Motivation
If You Build a Classroom Library, They Will Read
Books are Our Passports to the World
Striking a Match