by Allie Reznik
Student Advisor, 2011-2013
Alpha Delta Lambda chapter
Duquesne University, Pittsburgh, PA
My experiences with Student Leadership as an undergraduate and graduate student have been incredibly enriching to my development as a leader and scholar. Since being chosen Student Advisor (SA) I have had a chance to work with co-SA Kelsey Hixson-Bowles, the Central Office, and inspiring Student Leaders from across the country to provide resources, support, and advice to chapters around the world.
SAs are appointed by the Board of Directors to a two-year term serving on the Board and leading the Student Leadership Committee. The two SAs each have a vote at Board meetings and have a strong voice in shaping the future direction of Sigma Tau Delta. It is incredibly empowering to see the Board of Directors consider and act upon what we present and suggest. Another amazing perk as a Student Leader is getting to travel to the fall Board meeting and the annual convention for free; this support emphasizes the commitment that Sigma Tau Delta has to student leadership.
The committee we lead includes highly professional and committed students who specifically represent members' interests. Through monthly webchats, abundant gmail threads, and attending Board meetings, the Student Leadership Committee develops programs, events, and contests for the annual convention. Last year in New Orleans, the Student Leadership Committee developed an innovative roundtable discussion that allowed students to express concerns, ask questions, and network, and we plan to build on that success with an even better roundtable this year.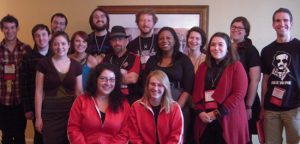 By blogging, tweeting, Facebooking, and other social media, Student Leadership also connected with members from around the world. This year we've continued to develop the spirit of community service by developing a meme contest. We will sell the top voted meme printed as a limited edition product, with proceeds to benefit the Portland Literacy Council.
As an SA, it has been so exciting to see the great blend of intelligence and fun in what we do. While the SA position is a lot of work, I am confident I have had a say in many important decisions and that I've learned a lot about the inner workings of Sigma Tau Delta, something many members never discover. Being SA has been a unique experience. Some of my fondest memories include dinner with Poet Laureate Natasha Tretheway, bonding with fellow Deltans at the Café du Monde over beignets, travelling across the Mississippi River on a ferry, and connecting over local brews in Portland. Many enriching opportunities and friendships have shaped my experience as a member of the Student Leadership Committee.
It all started by submitting an application, resume, and letter of recommendation, and then I was interviewed by the Board. Apply today to become a part of this supportive and innovative community!