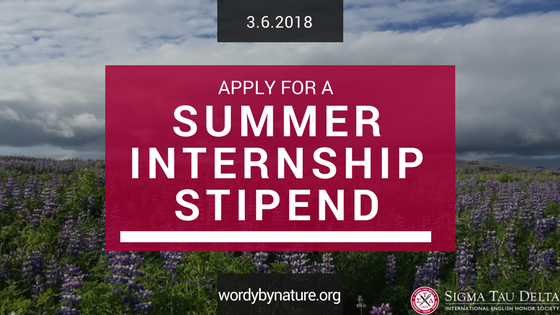 Summer internships offer students a unique opportunity: to gain practical, hands-on experience in a field, without detracting from schoolwork during the fall and spring semesters. Furthermore, many internship positions lead to post-graduation employment opportunities. Even if the company where you intern doesn't hire you, a summer internship provides you with invaluable networking opportunities and experience in the field.
Unfortunately, many summer internships pay very little or nothing at all, forcing students either to work another job in addition to their internship, or to make the difficult decision between vital work experience and being able to make ends meet during the summer, or save money for the upcoming school year. That's where the Sigma Tau Delta Summer Internship Stipend comes into play. If you have secured a non- or low-paying summer internship in your field, Sigma Tau Delta may be able to help keep the wolf from the door with a $1,500 stipend, allowing you to make the most of your summer internship. Applications are currently being accepted through April 9.
Take a look at the 2017 Sigma Tau Delta Summer Internship Stipend recipients' accounts of their experiences.
---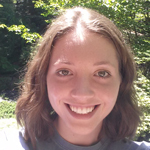 Victoria Anderson
2017 Sigma Tau Delta Summer Internship Stipend Recipient
Omega Beta Chapter
Ouachita Baptist University, Arkadelphia, AR
I turned on the camera, checked the microphone, and glanced down at my list of questions. Then I looked up with a smile at the uniformed gentleman sitting in front of me. He smiled back and gave a slight nod, and after we both took a quick breath to calm our nerves, I hit record to begin the interview.
---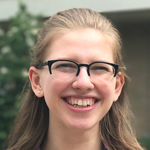 Aquene Kimmel
Beta Beta Chapter
Case Western Reserve University, Cleveland, OH
I decided I wanted to be a librarian in eighth grade when I started working as a library aid as a school elective. I adored walking through the child-height shelves with my returns cart, and when I was allowed to do repairs or apply the plastic library book covers, I felt like Khaleesi of the books. Since then, that decision has been reaffirmed many times—both by libraries where I feel at home and by acquaintances who unfailingly tell me I "totally look like a librarian!" when I tell them my career goals.
---
Sarah Spaulding
Xi lota Chapter
Carson-Newman University, Jefferson City, TN
Imagine you've just spent the last four months searching for a publishing internship. You're frustrated because you've written what feels like hundreds of cover letters and received nothing but negative news. You didn't even get that Barnes & Noble job you applied for in your darkest, most desperate hour.
---
Sigma Tau Delta Summer Internship Stipend
Applications are due by April 9
Sigma Tau Delta offers funding for current undergraduate and graduate student members accepting non- or low-paying summer internships. The Summer Internship Stipend is a competitive program providing a limited number of stipends of up to $1,500 each.
The internship must involve working for an "organization" while being directed by a supervisor/mentor within that organization, and the internship's duties must be consistent with the applicant's level of education, area of study, and career goals. Financial need will be taken into consideration in addition to internship length. Applicants are responsible for obtaining and providing verification of the internship. Please review the application guidelines for additional information.
Read More Stipend Recipient Accounts
McIntosh & Otis Internship: Preparation for a Dream Career
An Eye-Opening and Goal-Affirming Internship: My Time with Penn Press
My Indie Summer Internship at Wise Ink
Winning an Internship with About.com
300 Poets and 90 Nonprofits: My Two-Summer Internship with the Poetry Center of Chicago
To Learn in the Harbor: My Editorial Internship with Conradiana
YES! Weekly Internship Offers Clear Path for Success
Conradiana Internship: Seeing a New Career Path