The Penguin Random House Internship program is returning to an in-person internship at their Broadway offices in New York City starting summer 2022. Sigma Tau Delta Priority Candidate applications for the summer internships will be accepted through March 14.
During my third year at Simmons University, a small women-centered university in the heart of Boston, MA, I found myself—like many other soon-to-be grads—questioning what I wanted to do as a full-time career. I knew I wanted to be involved in publishing one way or another, but my experiences in the industry were limited to smaller publishing houses that focused on either academic or children's books when I was more interested in adult fiction and nonfiction. As soon as I saw the email from Sigma Tau Delta about the opportunity to intern within the editorial department of one of Penguin Random House's 250+ imprints, I immediately started my application. Since PRH is one of the five largest publishers in the world I knew this internship would give me the opportunity to experience publishing in a completely different capacity and move outside of the much smaller city of Boston. In the past, what had prevented me from applying to internships in New York City was the financial strain of living in one of the most expensive cities in the United States; however, coupled with the internship being paid, Sigma Tau Delta offered an additional $1,500 housing stipend, which eased my concerns about affording housing.
After a series of interviews, I was offered and accepted the position for the summer of 2020. Unfortunately, due to the COVID-19 pandemic, the internship was postponed until summer 2021 and was conducted completely remotely. Initially, I was worried the internship experience would not be what I expected and that I would not be able to make the same connections as I would in-person. This was not the case at all. I had the privilege of interning within the editorial department of Random House Publishing Group, an imprint that publishes a wide array of fiction and nonfiction. There, I would check in with my supervisors every day; attend back-to-back meetings about all facets of the publishing process; read submissions sent in to the editors and write in-depth reader responses; and meet with individual editors to discuss their career paths, type of books they preferred to acquire, and what advice they had for individuals looking to enter the publishing industry full-time.
My internship at Random House Publishing Group solidified my desire to work in editorial. Given the space to read a variety of manuscripts, draft title information sheets, and even partake in the editing process itself, I fell in love with every aspect of the job. This experience has prepared me for any future career I have within publishing and I hope to someday soon move to New York City and continue my career in publishing. Had Sigma Tau Delta not offered a housing stipend for the in-person internship, I would not have been able to commit to living in New York City for the summer. Although my internship was ultimately postponed and remote, this opportunity was beyond incredible, and I strongly encourage anyone interested in publishing to apply for the Penguin Random House Summer Internship Program through Sigma Tau Delta.
---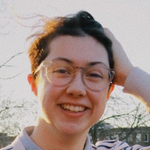 Charlie Sinotte (they/them)
Penguin Random House Summer Internship Recipient, 2021
Alpha Sigma Xi
Simmons College, MA
---
Penguin Random House Internships
Paid internship opportunities are available from Penguin Random House to provide interested undergraduate and graduate student members of Sigma Tau Delta with experience in the publishing industry.
Summer 2022
Application due dates:
Application to Sigma Tau Delta for priority consideration: March 14, 2022

Full application to Penguin Random House: April 1, 2022
With focuses on Editorial, Marketing, Publicity, Sales, and Finance/IT, this internship program offers candidates the opportunity to work in the Penguin Random House Adult & Children's divisions, attend weekly professional development programming, and learn about the world of publishing. This program is intended to provide opportunities for racially/ethnically underrepresented groups in the publishing industry. Active chapter members interested in learning about the world of marketing in book publishing are encouraged to apply. No prior publishing experience is required.
During this summer 10 week program, the intern will work 28 hours per week at a pay rate of $20/hr. Opportunities are available in Penguin Random House's Broadway offices in New York City and will run between June 13, 2022 – August 19, 2022. Active, eligible student members of Sigma Tau Delta who are chosen by Penguin Random House for the internship program will receive an additional $1,500 stipend from Sigma Tau Delta. Active members include undergraduate and graduate students, and students who graduate in spring 2022.
Past Penguin Internship Recipient Blogs
An Internship Like No Other: Perseverance and Publishing at PRH
Putting the Puzzle Pieces Together: My PRH Internship
The One Where I Remotely Interned at Penguin Random House
Overcoming Imposter Syndrome to Apply for a PRH Internship
Saying 'Why Not' to a Career at Penguin Random House
Publishing in the Time of Covid: My Virtual Internship at PRH
Not So Random Memories from My PRH Internship
Making Protagonist Choices: My Internship at PRH
Perfect is Penguin: My Internship at Penguin Random House
My 140 Hours Interning at PRH's Razorbill
How an Internship Shaped my Career
Spending Summer in an Igloo: My Editorial Internship with Penguin Random House
Interning at Penguin: Life of a Book Nerd
The Halfway Point: Penguin Group (USA) Summer Internship
---
More from Footnotes: March 8, 2022
Student Leadership: Bigger than Yourself
Apply for Spring Scholarships
Leadership Opportunities
2022 Convention Update