My summer 2018 internship with EL Pathway Services and education center in Selangor, Malaysia, was a very enlightening experience not only as an English Education major but also as a prospective teacher.
As an English and Writing Teaching Assistant, my duties included preparing lesson plans, marking books, providing feedback on written material, and conducting classes. I was given charge of two literature classes that ran for 45 minutes, twice a week. Using the teaching methods I learned from Education classes at Southern Arkansas University, I created several activities that focused on different aspects of learning—visual, written, and audio. Using the provided content and questions, I created several game-based activities that focused on either group or individual work. Some of these activities were played for small prizes, such as a bag of chips. Additionally, because 80% of EL Pathway's students learn English as a second language, my knowledge of the English language and English writing became especially valuable in explaining literary phrases in ways the students could understand. Upon receiving feedback from both students and supervisors on the nature of my teaching, I discovered that my words of encouragement, which I learned to express from my classes, especially made an impact on the students.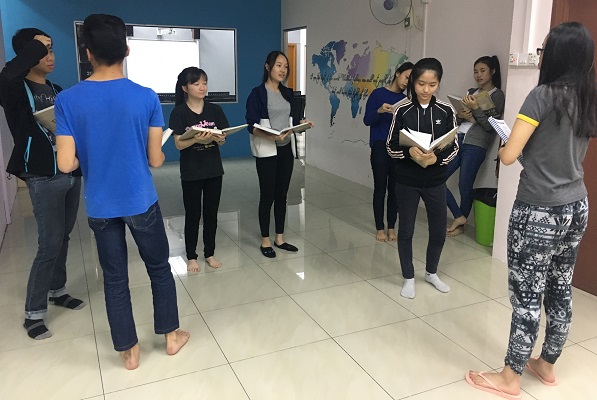 One of the biggest ideas emphasized in my education classes is teachers providing support outside of the classroom. EL Pathway strives to provide its students with extra-curricular support, requiring students to participate in physical education, cooking, and cleaning, as well as offering optional language classes. As an independent activity, 20 students have been training in floorball, a sport that has been flourishing in the country for the past 10 years, and enrolled into an inter-school competition. With my amateur experience in floorball, I joined the girls as the ninth member of their team, Casper. As many Fridays and Tuesdays allowed, I joined the 20 students to practice and train for the competition, which took place on July 20-22, 2018. Joining the students in floorball was a marvellous experience; I was able to observe them work together, encourage each other, and guide each other to improve their individual and teamwork skills. My enthusiasm in joining them also provided a sense of support from the teachers and administration of EL Pathway, most of whom were unable to spectate the competition.
On top of the activities described above, each of the four teams are required to fulfill a community service four times a year. For this quarter, three teams chose to visit and donate to orphanages while the fourth team, which I was assigned to, decided to visit an old folks' home (attached photo #5; I'm far left). The home, called Little Sisters of the Poor, was founded by Jeanne Jugan, also known as Sister Mary, in 1965 and cares for the elderly who are homeless or have no living family members. The team performed two songs, With Christ In the Vessel and Lord I Lift Your Name on High, as individual members presented gifts or monetary donations.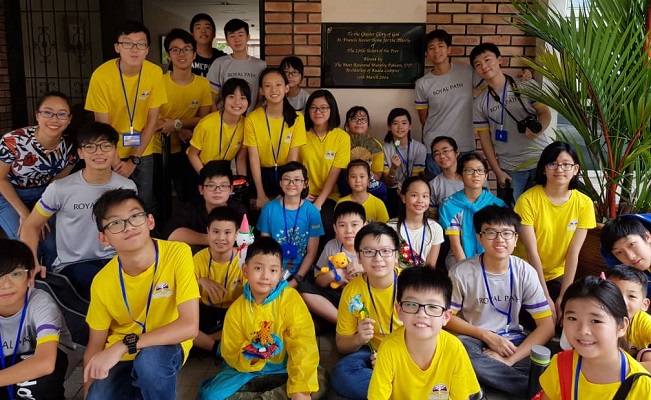 Sigma Tau Delta's Summer Internship Stipend has greatly aided me in accepting this internship position. Without this stipend, I would not have been able participate in the internship because the travel expenses were very high. Sigma Tau Delta has provided me with this invaluable opportunity to teach at EL Pathway Services and continue my professional and academic growth.
---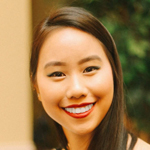 Su Lynn Tan
2018 Sigma Tau Delta Summer Internship Stipend Recipient
Epsilon Theta Chapter
Southern Arkansas University, Magnolia, AR
---
Apply for a Spring Internship Stipend
Sigma Tau Delta offers funding for current undergraduate and graduate student members accepting non- or low-paying internships. The Sigma Tau Delta Internship Stipend is a competitive program providing a limited number of stipends of up to $1,500 each.
The internship must involve working for an "organization" while being directed by a supervisor/mentor within that organization, and the intern's duties must be consistent with the applicant's level of education, area of study, and career goals. Financial need will be taken into consideration in addition to internship length.
The application deadline is Monday, November 11, 2019, 11:59 p.m. Central Standard Time (CST).
---
More from Footnotes: October 22, 2019
Convention Submissions Due Oct 28
Apply for Summer Program and Study Abroad Scholarships
Apply for a Chapter Project Grant
New Merch at Shop English