Fall has begun, and the semester is in full swing. By now, many of our chapters have had their first meetings and are either making plans for the rest of the year, or solidifying plans. Consider including Sigma Tau Delta Student Leadership and Benetech's Bookshare Initiative in those plans.
Benetech, with their Bookshare program, is doing what we Deltans love the most—making literacy accessible for all. Benetech is a corporation that has "a pure focus on developing software for social good." Their work and efforts in education are what brings us their Bookshare initiative.
The majority of us do not have to worry about the struggles of those that are not similarly abled. Personally, I do not have to worry about the struggles of words becoming mixed up or jumbled as I read. I do not have to deal with a significant visual impairment. I do not have to consider the physical dexterity involved in turning the page in a physical book. Those worries that I lack on a daily basis are the very concerns that Bookshare focuses on and tries to minimize for others.
As lovers of the craft, we believe literature should be accessed to everyone; we believe there is an inherent inclusivity to literacy—all should be able, even if they are differently abled. This is why Student Leadership aims to help Bookshare. We strive to further Sigma Tau Delta's mission in all ways possible, and we hope you will help us.
We know some chapters are small, and some are large, but all can help. So, in that vein, we propose a challenge.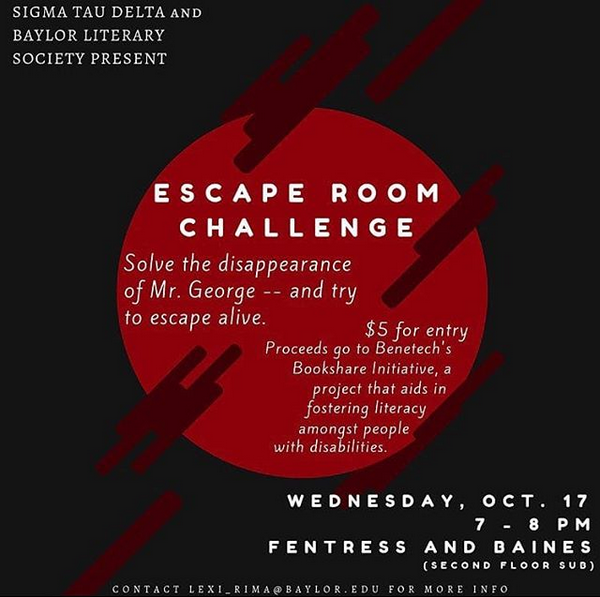 Student Leadership puts forth the Make It Matter challenge. Each chapter is tasked with raising $1 for every active member—then matching that as a minimum donation. So, if your chapter has only five members, we challenge you to raise $5 and then match those $5 to donate a total of $10 to this year's Society-wide Service Project. Consider hosting a fundraising event like this Escape Room Challenge the Baylor University chapter held. And make sure to tag Sigma Tau Delta in all of your social media posts about your Bookshare events!
We hope this will make fundraising fun and accessible for all chapters and members of Sigma Tau Delta. After all, accessibility really is the focus this year.
All monies collected can be sent in a check directly to
Sigma Tau Delta Central Office
Department of English
Northern Illinois University
DeKalb, IL 60115
The first collection period ends December 14.
The second collection ends March 29, and may be submitted at the Sigma Tau Delta 2019 International Convention.
The final collection period ends May 1.
Do not send money directly to Benetech, because we will compile all funds to make a combined donation to Benetech from the Sigma Tau Delta Society and its chapters.
Join us and help to make a difference in the lives of people who truly need it. Join us in bringing literacy to all.
---
DeAndra Miller
Student Advisor, 2017-2019
Phi Chapter, Chapter President
Minot State University, Minot, ND
---
Resources
Student Leadership 2018-2019 Service Project
Benetech
Bookshare: A Benetech Initiative
Fundraising Resources
---
More from Footnotes: December 4, 2018
Convention Update
Penguin Random House Summer Internship
Ship BWB Campus Drive Books by December 14
Writing Contest for Secondary Schools