Sigma Tau Delta membership sometimes extends beyond chapters on traditional campuses in the United States. As an international organization, the Society has chapters in the US and overseas, as well as "virtual" chapters with members attending class in an online environment. Students who are members of our virtual chapters may work full-time, have children, or other responsibilities that make it difficult for them to attend traditional on-campus classes. Holly Lodin is a member of the Alpha Phi Beta Chapter at Southern New Hampshire University-COCE, and also happens to be a member of the United States Air Force, currently stationed overseas.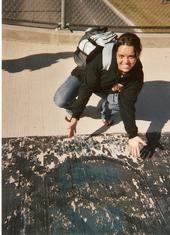 Brown and green watery eyes watched me board the plane that would fly me out of Oregon and to Texas. Knots twisted my stomach as fear mixed with anticipation for what was to come. Sitting down in the blue clothed chair, I listened attentively to the flight attendant give the safety instructions in case there was trouble aboard.  As I struggled to figure out how to buckle myself, I felt anxiety at this newer experience mixed with anticipation for what was to come. As the engine kicked in, my hands grasped the arm rests and my eyes drifted to the oval window as the runway began to disappear. I was on my way to Basic Training (Boot Camp) for the United States Air Force.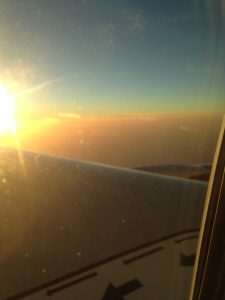 I didn't know what I wanted to do with my life yet, at only 18 the pressure to get a college degree was heavy, but I didn't want to spend the time or money on something I was unsure of. The opportunity to travel outside the northwest excited me; little did I realize how much of this the military would provide for me. Not even two years into my enlistment I was given my first notification that I was set to deploy to the Middle East.
This notification was one of many that followed through the years. Notifications for following deployments, moves, and short trips were in no short supply over the next ten years. The constant change and separation from my family was a struggle at first, as I sought familiarity and an outlet for my mental state. Writing became my answer.
Although I scribbled down notes at a much younger age, thirteen was the age I started to put those notes together to form a book. This task and connection to my pre-military life was, and still is, a stability in my whirlwind of a chaotic life. With my fictional tale, this outlet provided me a means to work through my own problems as I developed characters who I later realized were experiencing similar struggles to my own.
It wasn't until 2013 that I published my first book through Amazon. Google, I will say, was a wonderful and terrible tool as I tried to learn all the weaves of how to self-publish and the differences between multiple publishing avenues.
The benefit I love the most when it comes to writing in the military, is all the different experiences and places I get to visit firsthand and in turn, include in my writing. For instance, when I went rock climbing in New Mexico I was able to transform a scene with my main character in a similar situation. I was able to describe with detail, her going from skimming down the rock face to clinging with her fingertips and toes, angling her body against cracks and the true fear one would face without a rope!
When I moved to England even more of these once-in-a-lifetime opportunities benefited my writing. Visiting castles, caves, and forests helped me to visualize places I never could have imagined. This, in truth, makes the separation from the familiar even more motivating as I now try to find out how I can incorporate these things into my work. For example, after learning there was no rainbow with a pot of gold in Ireland, I persevered and visited where Bram Stoker wrote Dracula!
With several more years to go in the military I hope to write more books fueled by a stockpile of unique experiences.
---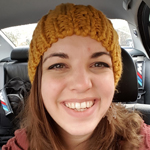 Holly Lodin
Alpha Phi Beta Chapter
Southern New Hampshire University—COCE, Manchester, NH
---
Sigma Tau Delta Membership
Membership in Sigma Tau Delta is by invitation, extended through a local chapter on behalf of the international organization. Students who qualify for membership must apply through the chapter on their campus. See chapter directory for colleges and universities.