We are pleased to announce the winners of the Far Western Region Blog Contest:
Category: Region and Literature
First Place: "No Fear and Loathing in Las Vegas" by Chelsea Johnson
Second Place: "On Seattle and Songwriting" by Joanne Santomauro
Category: Review
First Place: "What Makes The Hobbit Different From Lord of the Rings?" by Topher Ritchie
Second Place: "The Hobbit: An Unsatisfactory Journey" by Taylor Heinrich
Third Place: "My Heart's in San Francisco with the Girl and her Pearl Earring" by Hallie McKnight
Category: Open Topic
First Place: "Twitter Expanded: 4 Sep. '09, twitter.com/linnylinlin" by Lindsey Nguyen
Second Place: "Just Some Rocks" by Angela Foley aka Little Bear
Third Place: "Literature: Disrobing Its Allure" by Luis Marin
Below, please enjoy the first place entry in the Region and Literature category, "No Fear and Loathing in Las Vegas" by Chelsea Johnson. Look for other winning entries in future posts.
No Fear or Loathing in Las Vegas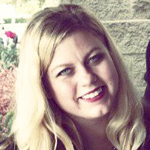 by Chelsea Johnson
President, Alpha Epsilon Tau chapter
Azusa Pacific University
I was born where the lights are always too bright, in a crater of sorts, and at the center, an altar, to many gods—mostly those who rain coins from slot machines. As locals, we hear that Las Vegas came to be thanks to the Mormons and mobsters, who apparently worked together to build the great city. Bugsy Siegel, although not a member of the LDS church, helped to cultivate the center of my great city—the strip. The name is indicative of both a location and popular profession here.
I grew up in crowded classrooms with teachers who no longer bothered to hide their lower-back tattoos. We read texts on bighorn sheep and the great Hoover Dam. In the fourth grade, maybe fifth, we went to visit. Kids whispered about how early builders had fallen into the great slabs of cement, never to be recovered. Most of us never swam in the lake for a similar reason—Siegel used cement too, but for boots.
There are few museums and libraries, but plenty of churches each serving a different type of salvation. Beyond the ring of mountains are sheep, brothels, and radioactive material. Yet, the city itself functions concentrically by economic standing. The rich stay in high rises at the center of the strip by day before haphazardly passing Jones and MLK Blvd. heading toward the mountains, suburbia, home-owners associations, high robbery rates, and safety—far away from the streets named only by single letters.
Yet, this city—Las Vegas—breeds the unreal and the spectacular. Freemont Street bares the shadows of greats. Where you find drive-through wedding chapels, 50 years ago you'd have witnessed Elvis citing his vows to Pricilla. Today Cirque du Soleil contortionists swing on stage where Sinatra would have sang a slow, careful drawl.
My grandparents moved to Vegas in 1959. They were twenty-one and twenty-two, married, with two babies. My great-grandparents helped to move them to the small town of roughly 25,000 people, mobster run, but as they describe it, safer than they'd ever felt.
My grandfather became a local sportscaster and my grandmother a teacher. They experienced a bit of local celebrity. And yet, in their descriptions I don't hear of "nearly-nude clubs" and local peep shows, but of beautiful dancers as showgirls, old-school tunes, drive-in theaters, and the pride of being part of something new and exciting. A place where talent thrived—a renaissance of 50s musicians and starlets. A sense of, "this is the way life should be."
Back then lights were newly fluorescent and telephones went by the name of rotary. Little girls listened to their neighbors' conversations. Just 15 years ago I sat on my mother's bathroom counter and watched her "put on her face." Foundation, deep rouge, thick brows, and dark shadow. Hosiery. Her velvet cocktail waitress uniform. Black heels.
In my city, beautiful goes by the name of a strip of dazzling lights, Elvis impersonators, and great homages to worldwide wonders. We stand among mini-Eiffel Towers and great glass pyramids. We stroll past the foot-long margaritas and we feel the biting cold of our winter or the dry heat of summer and most of us understand the word home as in track housing.
We drive beyond billboards of beautiful women and we feel a purpose, a pride for our city. What happens in Vegas doesn't stay there—it goes with you; it becomes part of you. Beyond the statuesque women and dazzling lights there's a microcosm of life unlike anywhere else. From the edge of the valley to front of the Flamingo hotel, here is my home, the place I learned to walk, talk, and drive. The place where the lights never turn off. We are performers of our own breed. Just a different type of storyteller.