Vegetarian and Vegan Cuisine in Portland
by Katherine Williams
Southwestern Student Representative
Arkansas Tech University
Known for its eccentric, eco-friendly environment, Portland offers a variety of vegetarian and vegan cuisine for both residents and tourists. I found healthy, meat-free alternatives at every stop during my visit to Portland for the fall Board meeting last September. According to Wikipedia, Portland is the most vegetarian-friendly city in the country; whether or not that statistic is exaggerated, the city has so many delicious cafés, bistros, and ethnic restaurants that even meat-eaters would enjoy the vegetarian dishes. These are my personal recommendations.
Mother's Bistro and Bar: 212 SW Stark Street (www.mothersbistro.com)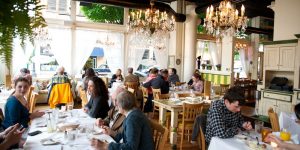 With its beautiful Victorian atmosphere, it almost felt like we were back in last year's convention city, New Orleans. This restaurant has been lauded by Food Network and it offers a cookbook for culinary fans. I had the Hummus and Greek Salad Combo from the appetizer section. It was plenty of food and very satisfying. It was also very affordable. It comes with pita chips, hummus with a spicy chili sauce, and the perfect Greek salad. ($$)
This all-vegetarian franchise is less than a block away from our hotel! The restaurant has a fast-food feel with a sit-down atmosphere and offers a delicious variety of iced teas (including green and black teas) and specialty beer on tap. I tried the Grillin' Chickin' with Sweetheart Fries, sweet potato fries with an amazing hearty flavor that come with the most delicious non-dairy chipotle ranch dipping sauce you will ever taste. It kept me full all day without feeling stuffed or tired. ($)
Located in Old Town, part of the walkable districts of Portland, you can pass through the Chinatown arches on your way to a historic pizza shop noted by Jay Leno and Rachel Ray. It's also known to be haunted. I shared an Antipasto plate, Pesto Pizza, and Dragon Lady Pizza with my friends. Although the antipasto plate includes different cuts of meats, I enjoyed the veggies and cheeses. Of the two pizzas, I enjoyed the Pesto Pizza the most; the combination of mozzarella and feta cheeses and pine nuts was sublime. Those of you who love veggie pizzas would enjoy the Dragon Lady Pizza with olives, artichoke hearts, and other veggies. ($$)
Anyone who's anyone goes to Voodoo Donut for their wacky donut names and delicious treats. Several of their most well-known donuts have a vegan option. ($)
Don't Forget About the Food Trucks…
Another cheap and delicious option in Portland is to visit the endless food trucks along 10th Avenue (on the way to Powell's City of Books). These portable food vendors offer every style of food your heart could desire, from Japanese to Mediterranean to Thai food. Many offer vegetarian and vegan meals at an affordable price (my tofu pad thai was only $5). However, be prepared to wait awhile for the vendors to get your meal together; most seem to deliver in the order in which the customer appears.
…or the Convention Hotel!
The hotel is offering a 15% discount on dinner service and daily discounted lunch specials at Bistro 921. If you are too busy to get away to eat, these discounts will make it much more affordable to just grab a sandwich or salad in the hotel so you can rush back to the fun.
If you are a vegetarian or vegan, be sure to read the menu carefully; most menus I've found in Portland restaurants have an icon that indicates if the entrée is vegetarian, vegan, or gluten-free. If you have questions about an entrée you would like to make vegetarian (by taking out the meat portion), have no fear about asking the wait staff. Most residents of Portland are very friendly and understanding of your request and they probably can offer advice on specials in the restaurant.