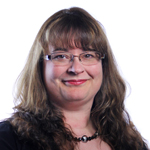 by Shannin Schroeder
Chair, Scholarships and Academic Awards Committee
Southern Arkansas University
Scholarship. For professionals in academia, the word conjures concentrated study and writing, the serious work that defines us as scholars in our fields.
For you as a student, at least during your college career, the term "scholarship" most likely references money. As a member of the English Honor Society, no wonder your thoughts might turn to funding! The amount of scholarships and awards for Sigma Tau Delta members and chapters is approaching $100,000, so there has never been a better time for Sigma Tau Delta members to apply for any and all award amounts for which they are eligible. Even a brief perusal of the organization's website should leave you feeling excited about the possibilities, from the smallest and easiest to apply for, to the prestigious William C. Johnson $5,000 scholarship, whose application process will ask you to flex your scholarly muscles by submitting a critical essay alongside your carefully-planned application. And the odds are in your favor for winning one of the awards or scholarships up for grabs, since the number of applicants each year is relatively low.
Scholarships allow students to practice the work of our discipline. In other words, such funding supports your efforts in the courses where you learn—in additional to the content itself—how to define yourself as a scholar. Your Sponsors and other professors watch your personal journeys of discovery, and we are reminded of ourselves. We watch as you light up describing the thesis for an upcoming paper. We nod in sympathy as you rail against the critic who clearly has it all wrong and whose article will be the jumping off point for your own defense of your claims. We thrill at the experience of seeing you present those ideas to others, whether in the classroom or at a convention…or in your applications for scholarships.
Winning a scholarship allows you to engage in scholarship. It is a recursive exercise, an ouroboros bringing you back full circle into the professional life of academia.
Scholarship and Academic Award Applications are currently being accepted through Monday, November 10.