With tremendous help from Sigma Tau Delta, I successfully graduated from New York University's Summer Publishing Institute (SPI). The program is typically hosted at NYU, but the pandemic prompted a three-week virtual option for this summer's students. This accelerated and intensive program focused on book publishing and digital and magazine media through workshops, presentations, and one-on-one sessions with experts.
Because of NYU's SPI, I continue to connect with and learn alongside other like-minded individuals with similar goals. I also network with the publishing industry's leading professionals. Every day during the program, I met with representatives and executives of various agencies, imprints, houses, and many other sectors of the industry. I listened to their personal experiences and how they achieved, and continue to foster, success in their lives and professional relationships. There was always room for me to join the conversation and ask meaningful questions about policy, procedure, stress management, life balance, ethics, and much more.
As a student who deeply appreciates leadership and conscientious work ethic, I valued the speakers' collective advice: stay curious and stay persistent. In the program, I learned about every part of the publishing process, and I discovered new interests in ideas and aspects of publishing that I previously assumed I would not enjoy, including digital media design and production. It was incredibly exciting to complete an assignment and have well-known professionals review and genuinely enjoy my work. Professional development workshops, discussing practical and technical skills, were especially useful in preparation for interviews with hiring departments and resume reviewers of many publishing giants. Every day for three weeks it felt as if I was constantly swimming in ideas and game-changing information.
Before I applied for the program, I extensively exercised my interests in publishing at my university, involving myself in almost every kind of media offered on campus: newspaper, magazine, literary magazine, academic journal, and digital media. My experience with NYU's SPI helped me narrow my focus and tap into my strengths. It reinforced my love for the work itself, not the romanticism of the work. It taught me to take chances, ask (many) questions, and seize what is outside my comfort zone. It gave me confidence in my history, my present efforts and ambitions, and my future. I graduate next year, and to know that I am already building a strong and well-connected network of inspiring and hardworking individuals in the industry is comforting. I currently aim to work in book publishing in either editorial or production departments.
The Sigma Tau Delta Summer Program Scholarship's contribution to my experiential learning is an honor and a privilege. The support made it possible for me to focus on bettering myself as a student and a professional. It sweetened my experience knowing that there is an International English Honor Society beside me, celebrating my want to chase after my dreams for the love of literacy and literature.
---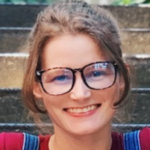 Nicole Prince
Summer Program Scholarship Recipient, 2021
Alpha Xi Xi Chapter
High Point University, High Point, NC
---
Summer Program Scholarship
The Summer Program Scholarship provides up to $1,500 for the purposes of attending a special 2022 summer program, either in the US or abroad, which furthers the applicant's engagement with Sigma Tau Delta's mission. Qualifying summer programs must be at least three weeks in length and no longer than three months. Applicants should demonstrate academic scholarship and chapter service and must explain the relevance of their summer program to fostering their engagement with the English discipline, including literature, language, writing, or literacy.
Application Deadline: April 11, 2022 for programs in summer 2022
For more information on applying for Sigma Tau Delta Scholarships, view the On-Demand Webinar—Sigma Tau Delta Pays You Back: Scholarships and Internships