For four months, I lived in New York City. I was accepted into a program through my college, Ohio Wesleyan University, that afforded me the opportunity to be in the city. This program is called the New York Arts Program (NYAP). The goal of NYAP is to allow students interested in the arts a chance to intern in their chosen artistic field. Since I was interested in English and Creative Writing, I wanted to do my internship somewhere where I could use those skills in a professional setting. With the help of my internship coordinator, Stanzi Vaubel, I was able to get an internship with PEN America.
PEN America is a nonprofit organization that works to protect free speech and represent underrepresented authors. This internship ended up being a perfect fit! With COVID still being of great concern, this internship ended up being entirely remote. This had its pros and its cons, but overall, I preferred the remote work as I was able to explore the city through coffee shops and workspaces to get my work done. I was living on the Upper East Side of Manhattan and would bounce from coffee shop to coffee shop, checking out different areas while also working for PEN. As for the work I had to do at PEN, I was assigned to the Literary Programs department which was in charge of coming up with and carrying out different programs throughout the year that celebrated artists of all types. Under the Literary Programs department, I was grouped off to the Literary Awards Team. With my supervisor and another intern, our team was tiny but mighty. We spent our time working to collect information for not only the judges but the selected authors of these awards. I spent time working in spreadsheets and in the inbox of the Awards email.

I learned so much about how to write professionally through a company email, and how to organize information into spreadsheets. I even got to spend some time working on my photoshop skills, editing photos for the PEN America website. All of these skills are easily transferable to many career fields, which I appreciate. Although I didn't spend much time creatively writing, I spent a lot of time developing and sharpening skills that are necessary for today's job demands. And with the Sigma Tau Delta Internship Stipend grant money, I was able to afford the cost of living in the city. It is extremely expensive living here and I needed the extra help to afford weekly and monthly trips to the grocery store. Luckily, through my program, housing was provided. This left my biggest worry being how to feed myself. Sigma Tau Delta provided me the money to be able to not worry about where my next meal was coming from. I was able to budget and make sure I was taken care of, which ensured my ability to survive and thrive in the city. This was the opportunity of a lifetime and I wouldn't have been able to do it without the help of Sigma Tau Delta.
---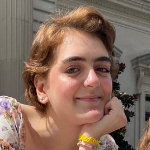 Anna Edmiston
Fall Internship Stipend Recipient, 2021
Eta Sigma Chapter
Ohio Wesleyan University, OH
---
Internship Stipend
Sigma Tau Delta offers funding for current undergraduate and graduate student members accepting non- or low-paying internships. The Internship Stipend is a competitive program providing a limited number of stipends of up to $1,500 each.
The internship must involve working for an "organization" while being directed by a supervisor/mentor within that organization, and the intern's duties must be consistent with the applicant's level of education, area of study, and career goals. Financial need will be taken into consideration in addition to internship length. Applicants are responsible for obtaining and providing verification of the internship. Check out BestColleges' Ultimate Guide to Internships for advice in finding and applying for internships. Please review the application guidelines for additional information.
The internship stipend does not apply to activities that are part of a student's degree requirements, such as student teaching, and cannot be used to supplement a graduate assistantship.
Applications will be accepted through Monday, August 8, 2022, 11:59 p.m. Central Daylight Time (CDT). Notifications will be made by September 6. Questions regarding the online submission process should be addressed to sigmatdapply@niu.edu.
Past Internship Stipend Recipients
A Writer in an Artists' World: My Internship at an Arts Nonprofit
An English Major's Summer Internship with a Legal Nonprofit
An Animated Summer: My Internship with the Florida Animation Festival
The Cost of an Unpaid Internship
How a Sigma Tau Delta Internship Stipend Allowed me to Pursue a Great Opportunity
The Price of an Unpaid Internship
An English Major in a Neuroscience Lab
To Be the Practical or the Spark; That is the Question
Understanding the Power of the Storyteller and the Story
My Internship at the LARB Publishing Workshop
An English Major on Capitol Hill
Spring Internship Stipend Applications Due Soon
Writing Internship for AGAPE
McIntosh & Otis Internship: Preparation for a Dream Career
An Eye-Opening and Goal-Affirming Internship: My Time with Penn Press
My Indie Summer Internship at Wise Ink
Winning an Internship with About.com
---
More from Footnotes: August 3, 2022
Classroom Library Grant Applications
2023 Convention Update
2023 Common Reader and Author Spotlight
Chapter Annual Report: Extended Deadline