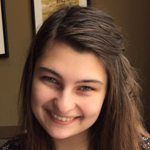 Emily Spangler
Associate Student Representative, Eastern Region, 2015-2016
Alpha Gamma Kappa Chapter
Shepherd University, Shepherdstown, WV
People always assume I, as an English major, want to teach, and they always are so unapologetically wrong. An English major offers countless paths to travel, and I chose the path to library science.
Reading has been my passion since early childhood, so pursuing library science only made sense to me as a teenager, and it still does now. I only ever wanted to protect books and indulge in the knowledge they offered, which essentially is what some librarians do every day. Imagine my elation when I found out I received a paid summer fellowship at any prospective librarian's dream institution: The Library of Congress in Washington D.C.
Working for the federal government, and especially the nation's library, I realized early on how critically important was the work I was doing there. I think I realized this not as a college student, or a reader, or even a federal employee. I only initially understood the impact of my time at the Library of Congress as an English major.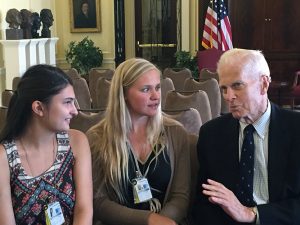 I feel as if only English majors, in our own way, truly can appreciate the new and old. We respect Shakespeare, and cherish Harry Potter. It's a dynamic unique to English majors, and I was grateful for it more than ever within the context of my fellowship. For 10 weeks, I was a first-time mother, and over 3,700 Portuguese Pamphlets were my children. These pamphlets originally were in the Rare Books Division, but were transferred to the division I was working under—Collections, Access, Loan, and Management—because many of these pamphlets originally belonged in a different collection.
My entire purpose was trying to locate items within the Portuguese Pamphlets that belonged to the Carvalho Monteiro Collection, a collection of over 30,000 items the Library of Congress acquired in the 1920s. I went through every single pamphlet, checking for a stamp indicating it was part of the Carvalho collection. I entered the titles, years, reference numbers, and other information into two databases I created. I sifted through 75 reels of microfilm, looking at pamphlets that weren't physically present. I individually photographed each pamphlet, and then rehoused them. Rehousing is relocating an item from its previous enclosure to a new, more adequate enclosure. While extremely technical, the job taught me that to care about something old is to care about something new.
By cataloging, photographing, and rehousing these beautiful pamphlets (the oldest are from 1572, while the newest are from 1920), I managed to come to terms with the fact I was helping future researchers, because I was making these items more accessible. I was the one behind the scenes, making the magic happen, and that's all it took for me to confirm pursuing library science as an English major was the best choice I ever made.
What do you (plan to) do with your English major?