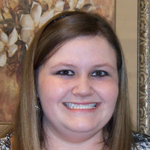 by Shalicia Wilson
Southwestern Region Associate Student Representative, 2012-2013
Alpha Delta Phi Chapter
Williams Baptist College,Walnut Ridge, AR
If you're an English lover who also enjoys history, the Hemingway-Pfeiffer Museum may provide for an excellent summer  or fall destination.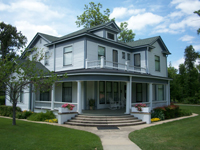 The Hemingway Pfeiffer Museum and Educational Center is located in Piggott, Arkansas. Piggott is a small, rural town in Arkansas housing around 4,000 inhabitants today. The Hemingway-Pfeiffer Museum and Educational Center offers tourists and enthusiasts alike a mixture of the history of the Pfeiffer family and a look into the life of Ernest Hemingway. A skilled guide presents a tour of the home and grounds for groups of any size. Many school groups often visit the Hemingway-Pfeiffer Museum and Educational Center. During the summer, the Educational Center offers various summer programs for children, and a writer's workshop is conducted for adults.
The Hemingway-Pfeiffer Museum tour takes place in the Pfeiffer family home. The Pfeiffer family was well-known for their ownership of several pharmaceutical companies throughout the United States. But Paul Pfeiffer, who was already very rich, wanted to be a gentleman farmer. He moved his wife Mary to Piggott, Arkansas to live out his dream. Not only does the tour offer insight into the prominent Pfeiffer family, but also into Ernest Hemingway. Ernest and Pauline were married for 17 years, and bore two children together. They frequently visited the Pfeiffer home in Piggott. It was during his marriage to Pauline Pfeiffer that Ernest Hemingway wrote some of his most famous works.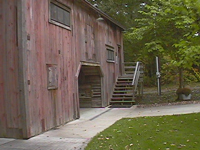 Recently, I visited the Hemingway-Pfeiffer Museum. I found the tour to be very enlightening. Not only was the Pfeiffer family history intriguing, but the many different paths the tour could be conducted allowed for every person to enjoy the experience and ask questions. I was very impressed with the knowledge of the guides at the Hemingway-Pfeiffer Museum. I was equally impressed with the condition of the Pfeiffer family home, and the renovations conducted by Arkansas State University to have both the home and barn studio admitted to the National Historic Register.
I visited the museum out of my own personal interest, but the museum and tour are both very educational. I believe the Hemingway-Pfeiffer Museum would be a great experience for any individual, but going with a school group or a group of friends would also be fun!  So take a day to go explore and learn!