Writing and Activism: How a 32-Word Question Can Help Fight Environmental Racism
Siobhain Lash
My heart thumped and my voice suddenly became strained like a too-tightly strung violin bow—scratchy and unrefined. I had intrepidly dialed into a program the New Orleans local NPR radio station hosts on the third Wednesday of every month called, "Ask the Governor." I did not expect to get through. However, when the phone kept ringing instead of immediately disconnecting, my bravery absconded. I realized I was about to be able to ask—firsthand—Louisiana Governor, John Bel Edwards, the question I had devised for nearly two weeks in preparation, ensuring it was incisive, respectful, not too pointed, and relayed the message clearly.
What are your solutions for properly addressing environmental racism that is happening in Death Alley and to various other communities of color in Louisiana, such as Gert Town and the Desire Projects?
This call-in was part of an initiative with the Citizens' Climate Lobby-Louisiana, a climate change advocacy group that also focuses on other, related environmental issues, whose goal, during these call-ins, was to build a long-standing, respectful, non-partisan discussion on exigent issues, such as environmental racism.
I had written, refined, and practiced the 32-word question many times, and I did this because clearly relaying one's message is one of the most central things to do in activism. Because I had my question written down, in spite of my nervousness, I was able to ask my question about environmental racism, a subject our Governor was notorious for dodging.
It was vital for me to be precise with my question, because contained within it were broader implications for communities, mostly African-American and immigrant communities, who had been systemically silenced and for whom these dangerous environmental practices were directly impacting, harming, and killing people. The question was the way in which I could help bolster local activists'—Rise-St. James and Coalition Against Death Alley—efforts to spread awareness. It was also my way to ask the Governor to address problematic behaviors displayed by the oil, gas, and chemical companies (who have plants along the lower Mississippi River), the EPA, Louisiana Department of Environmental Quality, local council members in the fourth and fifth district, and the City of New Orleans; they have all been complicit in permitting companies, like Denka/DuPont, to violate—repeatedly—health and safety guidelines with impunity.
The goal of my question was to address the numerous infractions plants such as Denka/DuPont were committing, for instance: at one point emitting 755 times the amount of permitted chloroprene into the air less than 1,000 feet from a school that contained around 400 enrolled students. And local council members of the fourth and fifth district authorized Marathon Pipeline to buy, co-opt, and privatize the only road that served as the sole evacuation route for the Hamlet, Freetown, LA.
There are other effective forms of activism that rely on writing, such as educating, contacting representatives, mobilizing, civil disobedience, civic engagement, organizing, and rallies. All of these varying methods of activism depend on clear, unified messages from "Governor Edwards, we cannot drink oil," to "Abolish ICE."
Writing is integral to activism, as it helps promote awareness and disseminate the desired message. It provides the ability for anyone to effect change, even if incrementally, and even if prohibitive obstacles, such as money, time, or location occur. It enables key methods of activism to take place as well, providing the opportunity for anyone to dispel disinformation; combat the normalization of dehumanizing language and Orwellian doublespeak; help to demonstrate common ground when division is being inimically attempted; and fight racism, xenophobia, misogyny, climate change denial, and homophobia.
Writing and activism are both nonpartisan, and combined, can have immeasurable social and political impacts, giving voice to the voiceless, bolstering and lifting up the silenced, and combating antipathy. It can be as simple as a 32-word question.
Siobhain (McGuinness) Lash is a poet and philosopher, raised between Northern Ireland and the Republic of Ireland and Reno, NV, USA. She received her BA in English with an emphasis in Creative Writing, Philosophy, and Psychology with a specialization in research from the University of Nevada, Reno (2015). She received her MA in Philosophy at Tulane University (2017) and currently resides in New Orleans with her husband and daughter. Her poems have been published in Blotterature Literary Magazine and The American Journal of Poetry. Through Sigma Tau Delta she has presented her poetry collections at five conferences, and one conference through National Collegiate Honors Council. She is currently a philosophy instructor.
---
How to Find Your Voice as a Writer
Charles Lobaito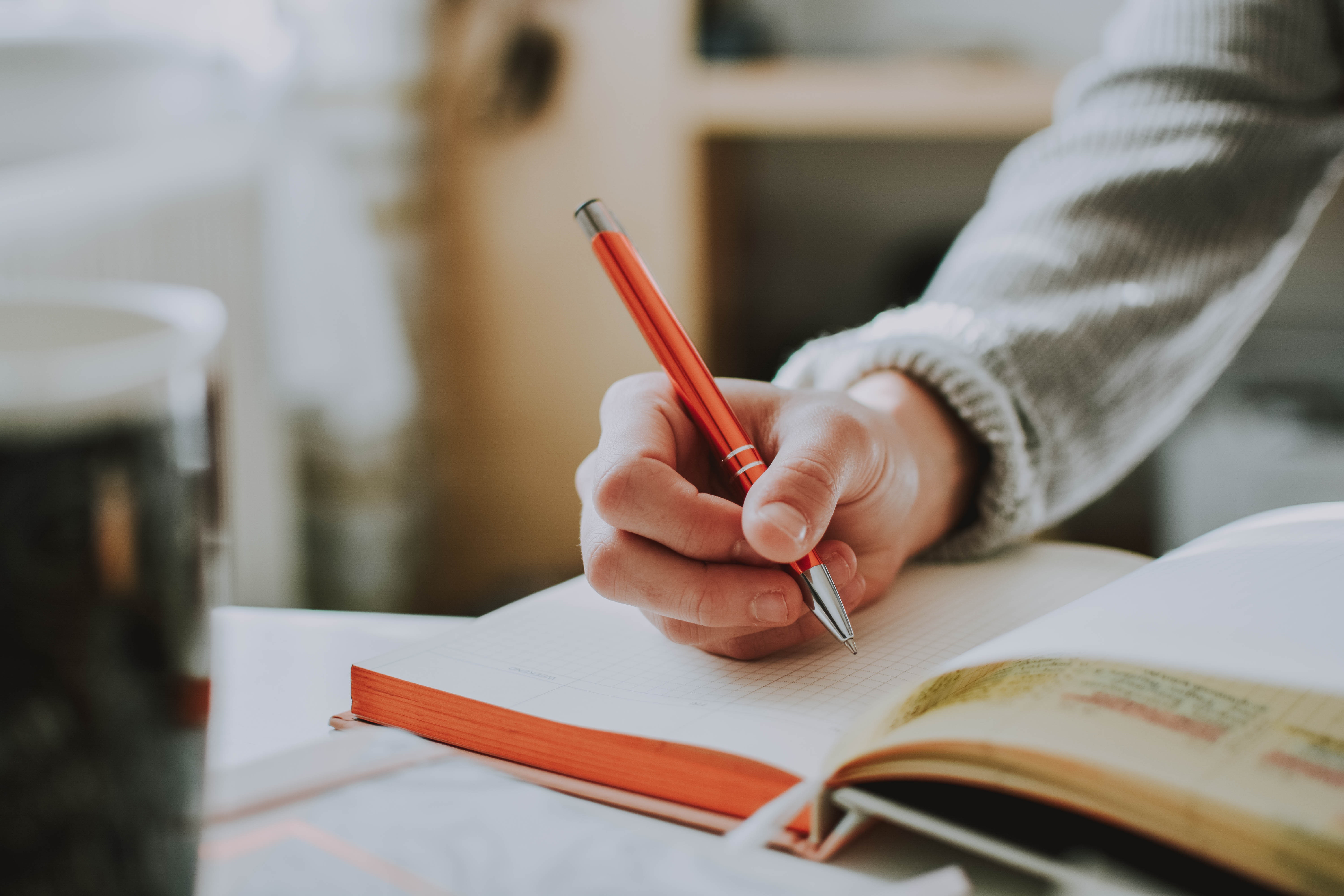 There are probably thousands of articles, books, and writing workshops that promise to tell you how to find your voice as a writer, but they don't show you. It all comes down to one secret: relax, be yourself, and let time do its thing. These ingredients make writing authentic. With this focus, everything will work out. Below are a few tips that can help you find your voice as a writer.
1. Don't be afraid to use your personality in your writing.
Your personality is what makes you, you. So, why not showcase it in your writing? Placing your personality on the page is like walking on sunshine with fireproof sneakers. Don't be afraid of the blank page. Brim it with charm! Devour it like the dawn of a new civilization. Once you put your personality on the page—your terminology, your quirkiness, and all your unique thoughts—a voice from the scribbled lines will magically appear.
2. Let the writing speak for itself.
When the story, paper, or poem is finished, and all the edits and corrections have been exhausted the way flashy desperado's fight in sandy streets on a paperback Monday, wish your new child well, and arm them with a lunchbox and juice pouch. The little fellow is ready for the publishing world. Believe in your own greatness! Confidence is the trade of believing in oneself. Others will respect you for being honest, and more importantly, yourself.
3. Good things arrive from patience.
Finding your authenticity requires time. Like a fine cheddar that ages in years overlooking the Mediterranean Sea in a cheesemaker's loft to become the best product, so too will your writing. Discovering your voice may take more than one publication. It could take several years to craft your style and build an audience. Do not fret, for this is good. With time comes life experience, and that means more material for your writing.
Now you're all set to seize the page with creativity. Good luck, and happy writing!
Charles Lobaito is an educator and writer from New Jersey. He received his BA in Creative Writing and English from Southern New Hampshire University. His works have recently appeared in Four Ties Lit Review and The Manatee Journal. You can find Charles on twitter with his pseudonym @literaryspot. 
---
Let's Chat About Convention
Kara Knickerbocker
I was fortunate enough to be able to present my original poetry collection, "The Shedding Before the Swell" at the 2019 Convention. During my undergraduate years as an English major, convention was one of the events I looked forward to the most. I found a sense of community diving into the wonderful world of literature with people who shared those very same passions and interests.
It is no wonder, then, that I jumped at the opportunity to participate in convention as an alumna. This year's Convention, "Work in Progress," brought me to St. Louis, MO, the last weekend in March. Knowing nothing about the city except for the famous Gateway Arch, I was eager to explore in my down time.
The hotel was just a short walking distance to the Gateway Arch Park, and also in the midst of some delicious food. From Sugarfire Smoke House BBQ, to mouthwatering gooey butter cake, to sampling flights at 4 Hands Brewing Co., there was something for everyone. I also loved exploring The Grove and seeing all the brightly colored murals—even walking the Mural Mile in the rain! Tower Grove Park and the Missouri Botanical Gardens were a beautiful afternoon escape from the bustling downtown.
Just as captivating (if not more) was the incredible talent I witnessed during the convention sessions. Sure, it was such a wonderful opportunity for me to read my own poetry, but I truly loved being a part of these panels and hearing the powerful words of other students. We all have such different stories, and I learned something at every session, exposing myself to different styles of writing and immersing myself further in connecting with these readers and this community.
Furthermore, I can't not mention the Red & Black Gala Awards dinner. Because I came alone to Convention this year, it allowed me another way to meet other attendees, learn about them and their fabulous work, and celebrate their accomplishments. The sense of support throughout the night was just incredible. I ended up winning second place for my poetry collection and my entire table (who had just met me!) erupted with praise when my name was called.
I am so thankful for Sigma Tau Delta for hosting this annual convention and providing an opportunity for us to feel the power of words and the sense of community in just a few, short days. I cannot express my gratitude enough for the Alumni Epsilon Chapter for extending this generous travel stipend to me. I currently work full time, and I am also a full-time graduate student. This unfortunately makes both my schedule and my finances tight, and to have some extra help when it came to funding my travel to St. Louis really made all the difference.
Sheyanna Schnepper
Something I enjoy about convention is exploring the city with people you barely know. It involves piling into a vehicle and sitting extremely close with people you can't even remember if you've been introduced to, checking out all sorts of places—like the zoo with the cutest red pandas imaginable and a very precocious sea lion who can hold a grudge, or a Budweiser restaurant that houses a statue of a rat gnawing on a questionable . . . ear of corn? You climb in that car or go out those hotel doors with people you've seen maybe in passing, and over the course of the convention, become friends.
I have always been at war with poetry, ever since junior year of high school when I raged against my English teacher to try getting out of studying it. However, between Bad Poetry and the Mega Chapter Underground Poetry 'n' Stuff (MCUPNS), it's hard to remember where that hatred came from. Bad Poetry this year held a quartet of poetry revolving around the Kemps, leading to a humorous bandwagon many were eager to jump on.
The anticipation of the Gala had the halls filled with Sigma Tau Deltans dressed to the nines—high heels and dress shoes, red and black ties and sleek dresses—everyone shifting in front of the heavy, closed doors. Then, in an instant, the doors were pulled open, multiple doors at once, and we all poured into the room, descending upon tables with such fervor I'm terrified of what the staff of the event must have thought of us. But when we had all settled down, every last straggler in a seat, a sense of contentment settled over the room. After all, it's hard not to be content when you're staring at a beautiful piece of cheesecake!
To finish up the convention, MCUPNS produced both laughing and crying, from jokes about that "straight white male in your seminar who didn't do their reading," to the memories of the last ten years of growth and change—but more importantly, the bonds we form as a group.
Rebecca Ferlotti
There's so much build-up to convention: making sure you have the time to go, finding a relatively inexpensive plane ticket, preparing for your presentation, researching "fun things to do" in each city. And then, we get there, we spend five days rekindling friendships, and it's all over until next year.
This year's convention was packed for me. I presented a collection of poetry; chatted about my job with the dynamic Shea Barfield and Brianna Zumbrum along with fellow AE members Traci Thomas-Card and Dana Eckstein Berkowitz; and shared publishing tips alongside Dana and Michael Prince. It's always amazing to hear alumni poetry, stories, critical essays, and roundtables; the support I've seen between this group is inspiring. With 36 presentations total, the Alumni Epsilon Chapter represented this year at convention, even if we didn't win the Dry T-Shirt Contest like last year.
Our Panera fundraiser was a huge success, and there are so many initiatives next year to ensure we continue to offer chapter travel stipends that I'm thrilled about. The camaraderie we have as a group, in committees, and with students is growing stronger, and it's been cool to watch over the seven conventions I've attended—seeing alumni network with other alumni and current students.
We have new officers that were elected during our chapter meeting:
Peggy Sue Wood—President
Chyina Powell—Treasurer
Sarah Vogel—Historian
I'm stoked to continue heading up the Communications Committee until next convention, when my position is up for grabs (you should apply!)
Although togetherness is always a goal, it's also important to take time for yourself at convention. As someone who scores 95% extroverted on the MBTI, I get my energy from other people. But I still need time to recharge, especially at convention, when it can be overwhelmingly packed with people. I decided to go up the St. Louis Arch alone. Honestly, it wasn't as exciting as I thought it would be; but that time alone gave me a break from the commotion, and I came back refreshed.
It's also great to push yourself out of your comfort zone and talk to new people. You never know who you'll meet and the lifelong connections you could form. If networking intimidates you, wear your conversation starter (my go-to is a bright pink blazer) or, since we're all English nerds, chat with someone sitting near you about the speaker you just saw or ask them what books they've read lately. Remember that everyone is in the same boat as you—trying to make connections, but wondering the best way to do so.
I can't wait to see everyone next year in Las Vegas. I have no doubt we'll share some wild adventures.