Sigma Tau Delta's Classroom Library Grants are designed to enhance the Society's goals of
promoting interest in literature and language in the surrounding communities;
fostering all aspects of the discipline of English, including literature, language, and writing; and
serving society by fostering literacy.
The Classroom Library Grants are also intended to support our members who have entered the field of teaching and need material support to help achieve these goals through their work in the classroom by providing their students with a library in their own classrooms, especially where access to school or public libraries or to books in the home may be limited.
The Society will award up to five grants of $400 each per year to help members of Sigma Tau Delta who have been teaching in the classroom for five years or fewer. That is, applicants may or may not be recent college graduates; the Classroom Library Grant is intended to help new teachers, whether in their first years out of college or in the first years of a second career, to build a classroom library for their students.
Take a look at the 2019-2020 Sigma Tau Delta Classroom Library Grant recipients' accounts of their experiences to see what opportunities may be available for you.
---
Striking a Match
Shannon L. Hughes
Classroom Library Grant Recipient, 2019-2020
Giles County Bobcats Chapter, Chapter Advisor
Giles County High School, Pulaski, TN
---
New Books, New Motivation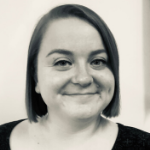 Hannah Davis
Classroom Library Grant Recipient, 2019-2020
Our Lady of Hungary School, South Bend, IN
Phi Nu Chapter Alumna, Miami University, Oxford, OH
---
Sigma Tau Delta Classroom Library Grants
Criteria For Selection
In choosing recipients, the Classroom Library Grants Committee will consider the following criteria:
lack of economic and geographic access to books at your school, or another demonstrated need;
the explanation of how the classroom library envisioned will support your goals in alignment with the Society's goals; and
supervisory endorsement of your classroom library project.
Deadline and Dates
The deadline for 2020 applications will be November 9, 2020, 11:59 p.m. CST. Awards will be announced December 7, 2020.
---
More from Footnotes: October 27, 2020
Roundtables: I'm a Fan, and You Will Be, Too
Ravens and RiverMead Read!
An English Major on Capitol Hill
Fall Scholarship and Internship Application Dates