Disadvantages of Being a Freelancer
If you haven't read it yet, check out Part One to Gabrielle McBath's Teaching Online Business English to Non-English Speakers series, the first post in our new blog series featuring articles predominantly written by Sigma Tau Delta alumni members about how they are now using their English degrees. Read on for McBath's tips for tackling teaching online English classes as a freelancer.

When I began writing my first installment of the "Teaching Online Business English to Non-English Speakers" series, I saw the advantages of teaching online and the unique benefits it offered teachers. However, as time progressed, and more companies as well as mainstream universities added online courses, my teaching situation was neither unique nor novel as I had first anticipated (particularly in today's COVID-19 world). Knowing the following pitfalls may help English teachers looking to supplement their income as an online teacher or tutor. Here is what I wish I had known four years ago:
1. You are a freelancer, not a direct employee of the company. Therefore, you must pay freelance taxes and international taxes, if your employer is overseas. This means you have to keep meticulous records of your pay and hours spent teaching. A foreign employer is not responsible to send you IRS-1099 documentation, as they would be if you were working as a US employee under federal guidelines.
2. Companies like PayPal may not necessarily be an option for a foreign employer, so check with your local banks: most have an additional wire transfer fee to receive a foreign paycheck. This fee happens each time your paycheck is deposited and can become quite costly if your teaching hours are not consistent every month. You may have to ask your employer to roll over your hours to the next month in order to keep your deposit costs low, or to even make a profit.
3. There are inconsistent hours and limited benefits. You are responsible in obtaining your own workload. Therefore, on the teaching websites, you must advertise your skills and background as well as be accountable to your students' (not administration's) performance reviews of your teaching. You must also keep the attention of non-traditional students who have work-life scheduling conflicts. Being an online teacher for a company is not the same as working for an online university or established K-12 school. Administration is not the same. The former is more business-oriented and the latter is more academically-driven.
4. In the online language company role, the teacher has limited academic freedom since the curriculum is written and established through a third party. I have found errors in said curriculum that I was not allowed to correct because, "it wasn't the focus of the company's mission statement." Online language companies want to focus on the real-life issues of the students, and the teacher must be able to accommodate the varying schedules of the students even when they are away from their lessons due to business demands. Teachers will run into problems with timelines and scheduling midterms or final exams if they have a student who is constantly on business trips and rescheduling their online classes. Also, the curriculum may be focused only on the needs of each individual student (travel plans, board meetings, or presentations, etc.) and not what the teacher deems necessary for learning basic Business English online. This discrepancy can be frustrating for teachers who know the material may not be the best fit for the student.
5. As a freelancer, you have limited facetime with your employer. You may have good employee training, but oftentimes, reaching out for assistance is dependent upon communicating with people in different time zones. Having a foreign, remote employer also means different teaching times from the times that the employer's IT department may be available for help. However, with different time zones, the IT department could be on lunch break or not online for assistance when you need them. I have seen some companies advertise that they want teachers from "9 a.m. – noon their time," and many do not realize that equates to 9 p.m. – midnight in the Eastern US time zone. Another example could be when the internet connection is not stable, for example, then the entire lesson may have to be rescheduled. Some classes require the teacher to stay online for 10 – 20 minutes before the class is canceled; and if the IT department is not there to help, then you will not be paid.
Teaching online English can be rewarding for supplemental income. However, there are numerous challenges between an online language company and teaching online for an established K-12 school or university. It is important to understand the difference between the two, since technology is useful only when it is functioning properly.
Are you a Sigma Tau Delta Alumni member? Consider submitting a blog to WORDY by Nature to share with your fellow Sigma Tau Delta members how you have been using your English degree.
---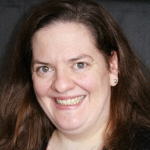 Gabrielle L. McBath, PhD
Independent Author & Manuscript Reviewer, Journal of International Education Studies
Connect with Gabrielle on LinkedIn
---
Sigma Tau Delta
Sigma Tau Delta, International English Honor Society, was founded in 1924 at Dakota Wesleyan University. The Society strives to
Confer distinction for high achievement in English language and literature in undergraduate, graduate, and professional studies;
Provide, through its local chapters, cultural stimulation on college campuses and promote interest in literature and the English language in surrounding communities;
Foster all aspects of the discipline of English, including literature, language, and writing;
Promote exemplary character and good fellowship among its members;
Exhibit high standards of academic excellence; and
Serve society by fostering literacy.
With over 900 active chapters located in the United States and abroad, there are more than 1,000 Faculty Advisors, and approximately 9,000 members inducted annually.
Sigma Tau Delta also recognizes the accomplishments of professional writers who have contributed to the fields of language and literature.