I thought I had a lot of books coming into my first year of teaching. However, after eagerly assembling them on the single shelf in my classroom, I stepped back in disappointment. It was as if my many boxes of books had walked up and left, with only a handful behind on this shelf. I tried arranging a few of my books with the covers facing outward to give the illusion of a full shelf. I became nervous about my ambitious independent reading element in my high school English classes, set to begin in just one week: How will my kids feel encouraged to pick up books if I don't have the right book for them? Surely my personal interest in fantasy and historical fiction would not engage every one of my 117 eleventh and twelfth graders.
When I saw that Sigma Tau Delta was taking applications for the Classroom Library Grant, I jumped on it. It was our first week of school. I emailed my new principal right away to sheepishly ask for a letter verifying my position in the building and intent to build my classroom library. I introduced my students to my tiny library with the message that, should I receive a $400 grant soon, we would have many more books to choose from!
When I received the email congratulating me for receiving the Classroom Library Grant, I cheered at my desk and immediately called my mom. As a first-year teacher and a newly wed to a senior in college, I simply didn't have the funds to purchase enough books to diversify my classroom library.
My students read independently for two hours each week and log their pages read on a sheet passed around each day in class. When they finish a book, they come to me and report the number of pages in their book. I then record the pages that each grade level has cumulatively read on our interactive bulletin board—when their class reaches their total goal, I buy them donuts (or as 5th period requested, pizza). Soon after purchasing more books for my classroom, I heard more frequently the triumphant words, "Mrs. Rolling, I finished a book!" and had eager students at my desk waiting to see how their book would contribute toward the class goal. It became music to my ears as students who told me they hadn't read a book cover to cover in a year or more were coming to me every other week to report a finished book and ask for a pass to the library or a chance to browse my own shelves. My students are THRILLED when I announce we're having an "IR Day" where they get to spend the whole class period on independent reading. One of my great joys has been hearing one of my juniors say, after many failed attempts, "Mrs. Rolling, I actually really like this book."
Pairing the Sigma Tau Delta Classroom Library Grant with another grant I was able to receive locally for $375 boosted my library from 96 YA titles to 164 YA titles. I am, of course, far from finished with my classroom library, but we are off to a strong start. Time to go finish more books!
---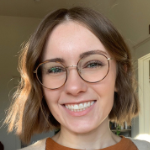 Alayna Rolling
Classroom Library Grant Recipient, 2021
Shenandoah High School, Shenandoah School Corporation
Middletown, IN
---
Sigma Tau Delta Classroom Library Grants
Sigma Tau Delta's Classroom Library Grants are designed to enhance the Society's goals of
promoting interest in literature and language in the surrounding communities;
fostering all aspects of the discipline of English, including literature, language, and writing; and
serving society by fostering literacy.
The Classroom Library Grants are also intended to support our members who have entered the field of teaching and need material support to help achieve these goals through their work in the classroom by providing their students with a library in their own classrooms, especially where access to school or public libraries or to books in the home may be limited.
The Society will award up to five grants of $400 each per cycle to help members of Sigma Tau Delta who have been teaching in a Middle School or High School classroom for five years or fewer. That is, applicants may or may not be recent college graduates; the Classroom Library Grant is intended to help new Middle School and High School teachers, whether in their first years out of college or in the first years of a second career, to build a classroom library for their students.
Criteria For Selection
In choosing recipients, the Classroom Library Grant Committee will consider the following criteria:
lack of economic and geographic access to books at your school, or another demonstrated need;
the explanation of how the classroom library envisioned will support your goals in alignment with the Society's goals; and
supervisory endorsement of your classroom library project.
Please note that this grant is now only available to middle school and high school educators.
Deadline and Dates
Applications will be accepted through Monday, August 8, 2022, 11:59 p.m. Central Standard Time (CDT).
Past Classroom Library Grant Recipients
The Unofficial Guide to Getting the Best Books for your Classroom
Creating Lifelong Readers with a Classroom Library Grant
The Contemporary American Dream: The Impact of a Classroom Library Grant
Building My Classroom Library: A Bright Spot in a Tough Year
Special Books for Special Students
New Books, New Motivation
If You Build a Classroom Library, They Will Read
Books are Our Passports to the World
Striking a Match