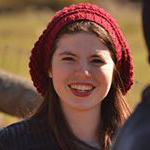 Samantha Miller
Student Advisor, 2016-2018
Alpha Epsilon Alpha Chapter
The College of New Jersey, Ewing, NJ
When I first read Shirley Jackson's "The Lottery," in eighth grade, I was struck by one primary thought: I wanted to write like that someday.
Jackson was one of the many eerie authors who influenced my taste today, her stories read alongside those of Poe, Asimov, and Bradbury. Yet, in non-English major company, when I fondly name "The Lottery" as my favorite short story I tend to get blank stares. Though Jackson is a canonical author and her work is still studied regularly in schools, the fantastically chilling story seems to have been pushed to the edges of their consciousness.
Almost Famous Women by Megan Mayhew Bergman, the 2017 Common Reader, centers around women who likewise have been shifted aside. Some are on the outskirts of history—for instance, Dolly Wilde, Allegra Byron, and Norma Millay—while others are downright obscure, such as Hazel Eaton. Some, like Butterfly McQueen and the conjoined Hilton twins, may receive vague recognition even if their names have been mostly forgotten. All of their stories are told by outsiders peering into these women's lives, and twelve out of thirteen stories construct a world where we might know their names as well.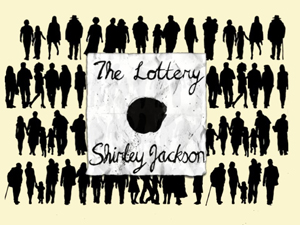 The outlier hails from my one of my favorite works—"The Lottery," of course. Unlike the other stories in this collection, "The Lottery, Redux" does not reconstruct a person's life but recreates another story. "The Lottery, Redux" shifts the setting to a matriarchal society that inherited its exile to a small, isolated island, and explores the perspective of a town leader who is exempt from the annual draw. I won't give spoilers for the original or this masterful retelling, but I can say the piece retains all the elements that made me love "The Lottery" in the first place, while also expanding to encompass themes that Jackson skimmed over. Bergman pushes mob mentality to the side in lieu of complicated consciences and resentment; the characters meet their fates readily, with heads held high. No one—except the narrator—ever thinks it won't happen to them.
Like the matriarchs in "The Lottery, Redux," the women in Bergman's collection are visibly the backbones of their communities. Whether the woman in question was already famous, on the edges of fame, or completely obscured by history, the collection recognizes them as important and worthy parts of history. Jackson has inspired me to write; Bergman has inspired me to explore the obscured corners of culture. She has written stories that span decades, ages, and perspectives; she has finally given these "almost famous women" the spotlight they deserve.
---
Submit Your Common Reader Work for Convention
Feeling inspired after reading the Common Reader and discussing it with your chapter? Compose a critical or creative piece based on Almost Famous Women and submit it to the Sigma Tau Delta 2017 International Convention, which will be held in Louisville, KY, on March 29 – April 1, 2017.
Awards of up to $600 will be given at the international convention for critical essays or other genres of work that deal with the 2017 Common Reader. To be eligible, students need to indicate on the convention submission form that their work is in the common reader category (presentation type). Members can submit a total of two works for the convention as long as they are in different categories.
Submission guidelines will be posted to englishconvention.org on August 1.
Submissions will be open from September 26, through October 24.