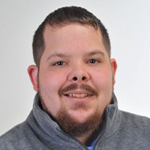 Timothy A. Leonard
Midwestern Region Blog Contest—2nd Place Winner
Alpha Sigma Delta
Indiana University-Purdue University Fort Wayne, Fort Wayne, IN
"Finding Home" is the theme chosen for Sigma Tau Delta's 2016 International Convention. Home is an interesting concept, one that can be concrete or abstract, depending on who is defining it. In honor of this theme, the Midwestern Region hosted a blog contest asking the question, "What does home mean to you?" Timothy A. Leonard's blog, "Home is…" is the 2nd place finisher.
What does home mean to me? A question like this really makes an individual think. I say think because the answer he or she gives, and even myself, will reveal what they are most passionate about—or, what is currently most important to them.
The old, anonymous quote states, "Home is where the heart is." Like the hands of a clock, an individual's heart changes with time. Here, the metaphorical destination of home changes too. I think the real question should be, what does home mean to me at this present time? My home is in the text of authors who have written their final words, but are now clinging to some representation of life on dusty shelves. My home is sitting in used and rare bookstores, sorting through forgotten stories hoping to find a lost treasure deserving proper retirement in preservation.
My home is the pen in my hand, writing the thoughts of my mind—transcribing theories developed by broken texts, with no clear beginning or end. My home is the study of English. I live in the neighborhood of concentrations—being visited each day by a new neighbor in the form of theory.
My home has no doors, walls, or even a roof restricting my imagination to travel within the subconscious mind. For it is my home that I return to each new day, English. I welcome all who are passionate about the writings of long ago, who are curious about theories that are left unanswered, and who are not afraid to be challenged in theory by fellow scholars.
Yes, my home will change with each new day of my life. However, it's how we leave imprints of ourselves in objects that reflect our passions, and in the end illustrates how we arrive at our final home. So, what does home mean to me? Home is where I am right now, where my feet are planted, and where I'm living through the pages of my favorite book.
In which book do you find home?