by Joanne Santomauro
President, 2012-2013
Santa Clara University, Santa Clara, CA
While Washington isn't exactly known as our country's hub of literary achievement (does Twilight count?), Seattle does dominate the language arts in one category: songwriting. Say what you will about Minnesota and Bob Dylan, today's most eloquent songwriters are birthed from the Puget Sound.
Take, for example, Ben Haggerty, also known as Macklemore, a rapper known for his poignant (and sometimes comedic) lyrics that have sparked musical flames in the hearts of gay-rights activists and thrift-shoppers alike. He has entered the rap scene with humility and grace, characteristics not often treasured in today's mainstream rap community. In his song "Wing$," Macklemore comments on the tragedies of a commodity-oriented culture: "I'm an individual, yeah, but I'm part of a movement / My movement told me be a consumer and I consumed it." His lyrics are clever, bold, and meaningful. I'll take that over Lil Wayne's "Lollipop" any day.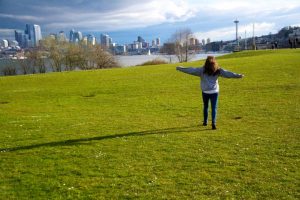 Another Seattle native boasts talent in the indie rock genre: Ben Gibbard, of Death Cab for Cutie and The Postal Service. Without a hiccup, Ben Gibbard manages to pack heartache, hope, existentialism, and painstaking self-awareness in almost all of his songs. One of my personal favorites, "Title and Registration," illustrates the sorrow, hopelessness, and nostalgia, all placed inside the speaker's glove compartment. If you're reading this, you probably are (or were) an English major, and you probably love metaphors. Like most of Gibbard's songs, this entire song is a metaphor. If you haven't heard it, listen to it now. Gibbard has the melodic genius and the poetic prowess to make even the most emotionally-guarded of listeners shed a tear.
Of course, I can't mention indie rock without paying tribute to The Head and the Heart, a singer-songwriting folk-pop duo whose lyrics would make any lit lover salivate. They emerged around 2009, and are known for their hits "Down in the Valley" and "Lost in My Mind." Their lyrics — as in many Seattle-reared songs — are laden with regret and brimming with hope, all at once: "Call it one drink too many, Call it pride of a man / But it don't make no difference if you sit or you stand / 'Cause they both end in trouble and start with a grin." Seattle rocks.
These are just a few of many brilliant Seattle lyricists. Let's be honest, the Pacific Northwest has shamelessly bred some of the greatest music groups in American history, like Foo Fighters, Nirvana, and Pearl Jam. So what is it? Why are Seattle songwriters so much better than the rest? I have several theories.
We drink lots of coffee. As the birthplace of Starbucks, Seattle is known for producing and consuming copious amounts of caffeine, which keeps us awake, even when we don't want to be. I would guess that at least 85 percent of Seattlelites suffer from insomnia. Which leads to my next point…
It rains quite a bit. Coffee + rain equals perfect writing weather (see "A Line-Storm Song" by Robert Frost). Pair insomnia with the soundtrack of nature's tears, and you will inevitably have a writer with endless time on her hands.
We also live near the water. And the mountains. Sunsets over the water would inspire any writer, right? Add Mt. Rainier to the mix — one of the most breathtaking, awe-inspiring creations I've experienced — and you've got yourself the perfect dose of inspiration.
Compared to people in most big cities, we're pretty nice. I could certainly criticize Seattle culture for being too politically correct, for being so hesitant to offend that we end up pleading the Fifth more than we exercise the First, but as the Blue Scholars (another Seattle-based rap group) say, "Proximity to water makes the soul a little gentler." It's true. We rarely honk in traffic, and it's more awkward to ignore strangers than it is to smile at them.  I like to think that this niceness gives Seattlelites extra empathy, an interpersonal skill that makes for some really, really good writing.
If you haven't been to Seattle, you should go. If you have, and you didn't like it, I don't believe you. Visit Seattle, but more importantly, listen to Seattle. I promise, it won't let you down.