While escaping modern life and diving into fantastical worlds of wisdom and magic is a wonderful thing when it comes to literature, non-fiction books, especially memoirs, can provide an insight into real cultures that readers often don't think about. The genre of memoir and autobiography encompasses a wide variety of topics, with the most popular subjects covering the author facing some sort of adversity. These books are incredibly important, both for the authors themselves and their readers. For the author, the act of writing the book serves as an outlet for whatever adversity they faced, or are currently facing, and the writing becomes a coping mechanism; a much-needed release. For the reader, the author has produced a source of comfort. If the reader has struggled (or, is currently struggling) with whatever the author wrote their memoir about, the reader now has validation knowing they are not alone in their hardship.
Carrie Fisher, most known for her role in the Star Wars movies as Princess Leia Organa, was quite the writer, right up until her death. Of her seven published books, three of them are telling memoirs, detailing her life as a young actress, rocky relationship with her father, and her struggle with mental illness and addiction. In her second memoir, Shockaholic, Fisher attempts to recover her Hollywood memories long forgotten, due to the electroconvulsive therapy treatment she received for her Bipolar Disorder. The writing, just as witty as her persona, discusses her tragic experiences light-heartedly and with humor, not asking the reader to pity her. Fisher discloses years of trauma and heartache in her book, but the fascinating element of Shockaholic, and all of Fisher's memoirs, is that she breaks down the idea that celebrities are not separate from people—they too struggle with many of the same things us non-famous people do.
Medical mysteries have a way of captivating audiences and keeping people on the edge of their seat, we are a society that craves answers. Because of this reason, there is a whole sub-genre of memoirs that is wildly successful, medical abnormalities. One of my favorites that falls into this category is Susannah Cahalan's Brain on Fire: My Month of Madness, which inspired Netflix's 2016 movie of the same name. The memoir explores Cahalan's descent into madness as she is diagnosed with a rare disease that attacks her central nervous system. Cahalan, a young writer for the New York Post, writes about her struggles with finding the right diagnosis and the recovery following. With her background as a journalist, she is able to convey the pain and the suffering of her illness beautifully in writing. Not only does this book have a way of keeping the reader's attention, as they are anxious to discover what she was eventually diagnosed with, but it advocates for getting a second (or third, or fourth . . . ) opinion from a doctor before settling on misdiagnosis.
Thanatophobia, or the fear of death, is one of the most common phobias due to not knowing what afterlife has in store. However, Morrie Schwartz, of Mitch Albom's memoir, Tuesdays With Morrie, accepts death with ease after being diagnosed with Amyotrophic Lateral Sclerosis (ALS). Albom writes about his reconnection with his former sociology professor upon learning of his forthcoming death. Albom, dreading his first visit with the decaying professor, for he feared that he did not live up to his younger self's aspirations, grew to feel comfortable with being confronted with death and wrote down as much of Morrie's wisdom as he could. Between Dr. Schwartz's insight and Albom's reflection after each meeting, the reader feels inspired to live their life as fully as possible, because, although cliché, tomorrow is never guaranteed.
What are some of your favorite memoirs or autobiographies?
---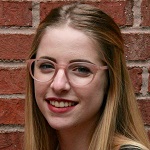 Amanda Chappell
Associate Student Representative, Far Western Region, 2019-2020
Kappa Upsilon Chapter, President
Saint Martin's University, Lacey, WA