For my final semester as an undergraduate student at Indiana University Northwest, I wanted to intern with a nonprofit, since I have plans to start an arts nonprofit in the future. I reached out to the Executive Director of my local arts nonprofit Lubeznik Center for the Arts (LCA) to see if they would be interested in having an intern. Their Executive Director was very excited to bring me on but said I should look around for some form of funding, especially since I'd have a 2-hour commute each day. The Sigma Tau Delta Internship Stipend afforded me the opportunity to not only pursue this internship, but also to not have to worry about my finances or take on a second job.
Because LCA has a very small staff, I had the opportunity to work in every department and assist where needed. Basically, I got to try a little bit of everything. I looked to the staff at LCA to be my mentors—to show me what a day in the life working at a small nonprofit is like. My first days as an intern were during the Lubeznik Arts Festival, so I was able to watch an event come to fruition from an outside perspective. I quickly learned that the majority of the staff are artists, which made me a writer in an artists' world. Because of this, I was able to offer perspectives as someone who is not an artist to help clarify language for the general public and make it more accessible, but I also gained valuable insight when considering the design for social media posts and other promotional materials.
Throughout the entirety of my internship, I assisted with many different projects and day-to-day activities. I worked with the Education Director on education programming including translating materials into Spanish, creating talking points for educational docents, and editing materials used to promote events and programming. I also helped the Marketing Coordinator by writing up social media posts and advertisement emails. One thing I was very interested in learning about was the curation of the galleries. I got to assist with the de-installation of the "Bramson / Indiana / Lake" exhibition and the installation of the "Nature Now" exhibition. Most significantly, I hosted a reading for Indiana University Northwest's most recent publication of Spirits Arts and Literary Magazine, since I am also the editor-in-chief of the magazine. I wrote up the press release and the social media posts to advertise the event, and I did all of the outreach to secure readers. The event was quite successful as it drew a crowd, and guests were able to get free copies of Spirits volumes as well as learn more about the magazine. There's something so cool about listening to people read their poetry while they are surrounded by art. For me, hosting that event was a mini manifestation of what my future holds.
Interning with LCA gave me the opportunity get a glimpse of what working at an arts nonprofit will be like. I was able to witness the various means of engagement with community and begin to brainstorm the different programs and focal points I would like to implement in my own nonprofit. I truly saw how powerful a small organization can be. Making art accessible is a priority for me, and interning with LCA has helped shape my understanding of how to begin to achieve that goal.
---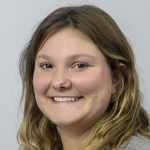 Lauren Frick
Fall Internship Stipend Recipient, 2021
Alpha Chi Beta Chapter
Indiana University Northwest, Gary, IN
---
Internship Stipend
Sigma Tau Delta offers funding for current undergraduate and graduate student members accepting non- or low-paying internships. The Internship Stipend is a competitive program providing a limited number of stipends of up to $1,500 each.
The internship must involve working for an "organization" while being directed by a supervisor/mentor within that organization, and the intern's duties must be consistent with the applicant's level of education, area of study, and career goals. Financial need will be taken into consideration in addition to internship length. Applicants are responsible for obtaining and providing verification of the internship. Check out BestColleges' Ultimate Guide to Internships for advice in finding and applying for internships. Please review the application guidelines for additional information.
The internship stipend does not apply to activities that are part of a student's degree requirements, such as student teaching, and cannot be used to supplement a graduate assistantship.
Applications will be accepted Monday, July 11 through Monday, August 8, 2022, 11:59 p.m. Central Daylight Time (CDT). Notifications will be made by September 6. Questions regarding the online submission process should be addressed to sigmatdapply@niu.edu.
Past Internship Stipend Recipients
An English Major's Summer Internship with a Legal Nonprofit
An Animated Summer: My Internship with the Florida Animation Festival
The Cost of an Unpaid Internship
How a Sigma Tau Delta Internship Stipend Allowed me to Pursue a Great Opportunity
The Price of an Unpaid Internship
An English Major in a Neuroscience Lab
To Be the Practical or the Spark; That is the Question
Understanding the Power of the Storyteller and the Story
My Internship at the LARB Publishing Workshop
An English Major on Capitol Hill
Spring Internship Stipend Applications Due Soon
Writing Internship for AGAPE
McIntosh & Otis Internship: Preparation for a Dream Career
An Eye-Opening and Goal-Affirming Internship: My Time with Penn Press
My Indie Summer Internship at Wise Ink
Winning an Internship with About.com
---
More from Footnotes: July 6, 2022
2023 Common Reader and Common Author
2023 Convention Update
Chapter Annual Report: Extended Deadline
Classroom Library Grants